It may not feel like it yet, but fall is coming and with it, flu season. With the best disinfectants in Louisville, you can protect your facility, school, or business from harmful viruses and bacteria that tend to escalate during this time.
One of the key steps to ensure a flu-free environment is choosing the right disinfectants. At Leonard Brush & Chemical, we offer a range of products proven effective against many harmful microorganisms. Below, we detail a few of our top choices to arm your facility with this flu season.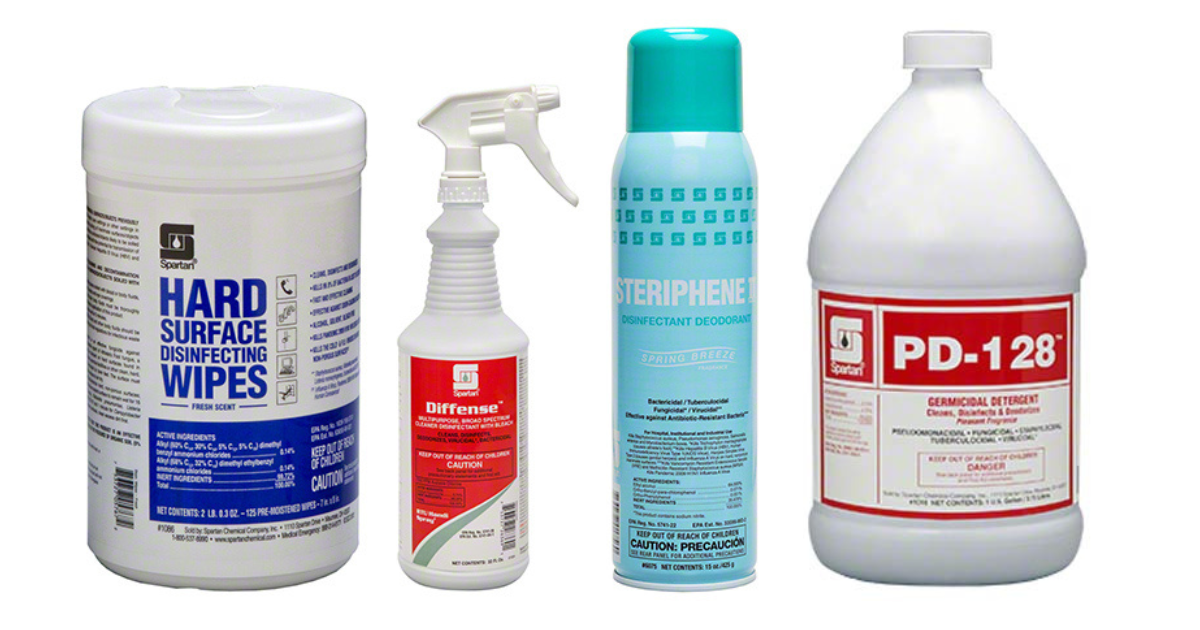 Spartan Hard Surface Disinfecting Wipes
When it comes to ease of use and efficiency, Spartan Hard Surface Disinfecting Wipes are hard to beat. These wipes are formulated to disinfect hard, non-porous, inanimate environmental surfaces, killing 99% of bacteria in just 15 seconds. Importantly, they are effective against the cold and flu viruses on hard non-porous surfaces. Ideal for use in various settings like healthcare, schools, and public facilities, these wipes leave a fresh scent and contribute to a healthier environment.
Spartan Diffense Disinfecting Cleaner
For facilities where infection control is mission-critical, Spartan Diffense Disinfecting Cleaner is a top choice. This EPA-registered, broad-spectrum disinfectant cleaner is effective against a comprehensive range of harmful bacteria and viruses, with less than one minute disinfection time. Its proven efficacy against Clostridium difficile spores makes it an excellent choice for healthcare-associated infection prevention.
Spartan PD-128 Disinfectant Cleaner
Spartan PD-128 Disinfectant Cleaner provides an effective solution against many bacteria, viruses, and fungi. It's a phenolic, tuberculocidal disinfectant and cleaner that can be used on a variety of pre-cleaned, hard surfaces including floors, walls, and high-touch areas. It's particularly suitable for high-risk areas such as operating rooms, intensive care units, emergency areas, patient rooms, dog kennels, and veterinary facilities.
Spartan Steriphene II Disinfectant Deodorant
Finally, the Spartan Steriphene II Disinfectant Deodorant delivers effective antimicrobial activity on hard, nonporous, environmental surfaces. It's ideal for convenient disinfection after spot clean up, and for those areas not easily reached during routine disinfection procedures. The dual phenolic system is proven effective against Methicillin-resistant Staphylococcus aureus (MRSA) and Vancomycin-resistant Enterococcus faecalis (VRE), offering an extra level of protection.
At Leonard Brush & Chemical, we're dedicated to helping you create a safe, clean, and healthy environment, especially as flu season approaches. Feel free to browse our full range of disinfectants in our online catalog, and don't hesitate to contact us for personalized recommendations based on your unique needs. Together, we can make this flu season a safer one.