Janitorial equipment forms the backbone of your cleaning program, allowing you to deliver a clean, healthy and safe environment. At Leonard Brush & Chemical, we are proud to provide a lineup of industry-leading equipment sourced from top manufacturers, and it's all backed by service and support you can trust.
From carpet extractors to vacuums, our janitorial equipment in Louisville will significantly enhance the productivity and effectiveness of your cleaning program.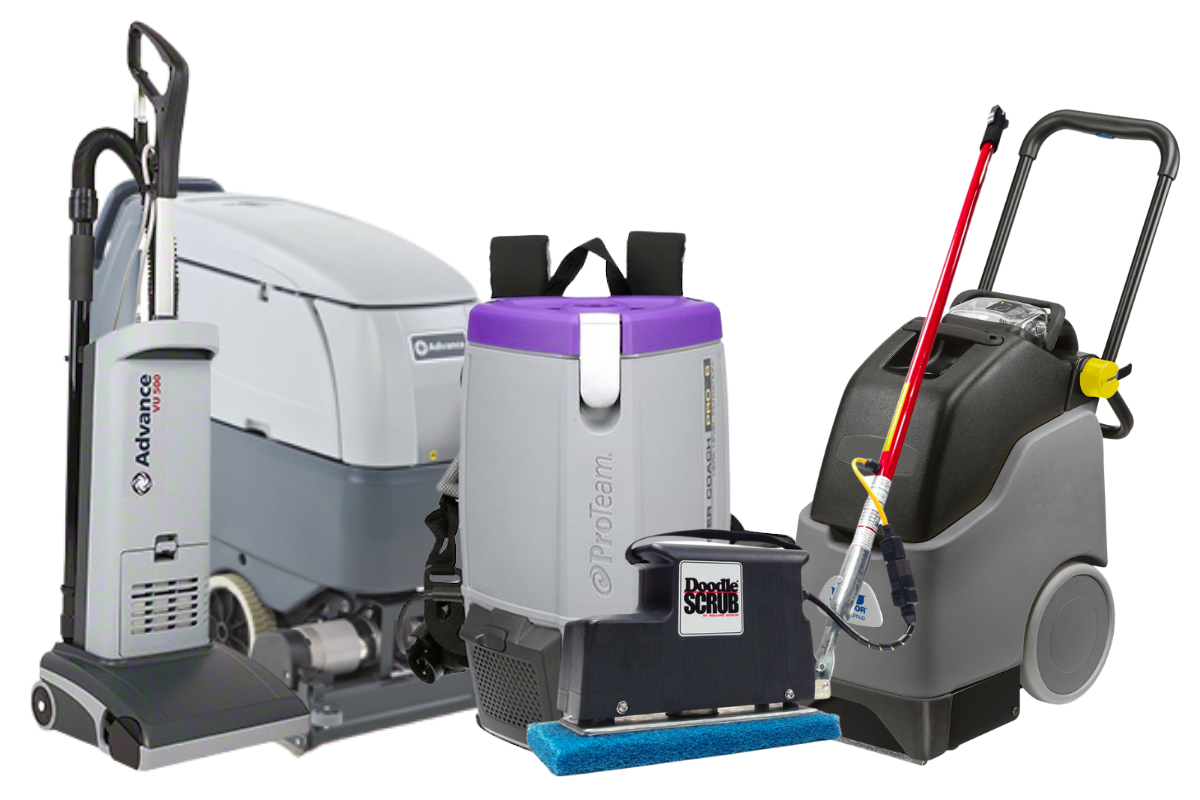 Nilfisk-Advance: A Century of Cleaning Excellence
As a global leader in professional cleaning equipment, Nilfisk-Advance has been empowering businesses for over 100 years. Their floor scrubbers and sweepers, celebrated for their easy maintenance and outstanding productivity, are perfect for commercial and industrial applications. With Nilfisk-Advance, multitasking in your cleaning program becomes second nature.
ProTeam: Revolutionizing Vacuum Cleaning
At Leonard Brush & Chemical, we're proud to offer ProTeam's ergonomic backpack vacuums, HEPA vacuums, and canisters. Engineered based on extensive research and development, ProTeam offers over 25 different vacuum models to cater to diverse cleaning applications. Get ready to clean faster and more efficiently!
Square Scrub: American-made Power and Versatility
Designed and manufactured in America, Square Scrub floor machines deliver reliability that saves you time and money. With their ability to handle heavy-duty jobs with ease, Square Scrub janitorial equipment will revolutionize your cleaning operations.
Windsor-Karcher: Innovation Meets Efficiency
Windsor-Karcher's line of scrubbers, floor sweepers, vacuums, burnishers, floor machines, and extractors are revered for their innovation, reliability, and productivity-enhancing capabilities. By boosting your cleaning program's productivity and improving your bottom line, Windsor-Karcher equipment is a smart investment.
Discover Our Janitorial Equipment in Louisville
Each machine in our inventory offers exceptional cleaning power, superior performance and easy operation and maintenance. Once you experience their efficiency, you'll never want to return to conventional cleaning methods.
Our team of experts at Leonard Brush & Chemical are ready to help you choose the best janitorial equipment in Louisville to meet your goals and budget.
Schedule Your Free In-Person Equipment Demo!
Are you ready to take the next step towards a cleaner, safer facility? Contact us today to learn more about our Nilfisk-Advance, ProTeam, Square Scrub and Windsor-Karcher machines. We offer free in-person demos of our equipment, so you can witness the difference these innovative tools make. Contact us today to arrange your demo!