As flu and cold season return during the ongoing pandemic, the importance of routine disinfection can't be understated. Our online catalog is stocked with disinfectants from some of the most well-known and reliable manufacturers. Check out some of our top recommendations below and order now to be ready for flu season and beyond!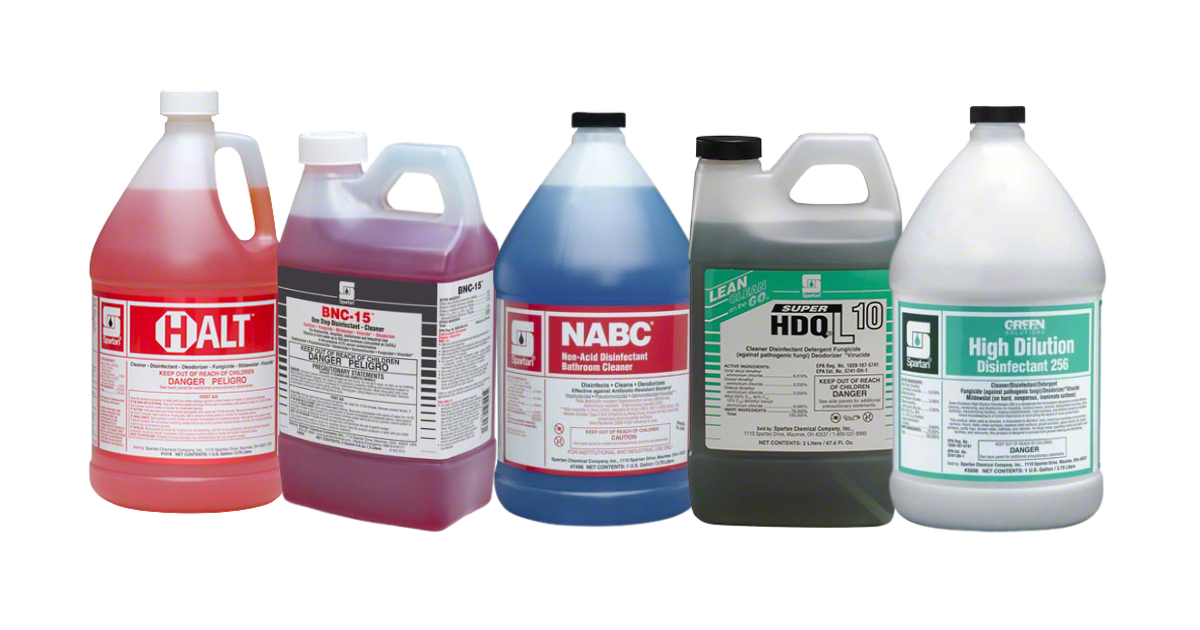 Spartan Halt Disinfectant
This hospital grade one-step cleaner, bactericidal, virucidal, mildewcidal, fungicidal is proven effective against a huge variety of viruses, bacteria and other pathogens. It's economical too, at 1:64 dilution! Halt leaves surfaces clean, germ-free, safe and smelling great with a fantastic fresh scent. Click here to order online.
Spartan BNC-15 One Step Disinfectant Cleaner
Another economical concentrate, this formula delivers non-acid disinfectant and cleaning performance, with non-food-contact sanitization in just 15 seconds. It kills microorganisms that cause offensive odors and is a true "one step" disinfectant, cleaner and deodorizer. Click here to order online.
Spartan NABC Non-Acid Disinfectant Bathroom Cleaner
This mild disinfectant is perfect for everyday use in any facility. Cleans, disinfects and deodorizes toilet bowls, urinals and other restroom surfaces with ease. NABC is non-abrasive and non-caustic and safe to use on nearly any hard surface. It won't etch your porcelain or pit fixtures, harm plumbing or damage septic takes. Even accidental spills won't result in ruined carpeting or clothing. Click here to order online.
Spartan Clean on the Go Super HDQ
Just 1/2 ounce per gallon of this concentrate provides total cleaning, disinfection and deodorization in one labor-saving, cost-effective step. Use with the Lean Clean on the Go Dispenser to get powerful cleaning for just pennies per gallon. This EPA registered formula is mild and perfect for floors, plastic, stainless steel, walls and other hard nonporous surfaces. Click here to order online.
Spartan Green Solutions Disinfectant
Excellent for use in larger areas like patient care facilities and operating rooms, this solution destroys many types of antibiotic-resistant bacteria and is effective against both VRE and MRSA. Green Solutions is phosphate-free and cleans, deodorizes and disinfects on a variety of hard, nonporous surfaces, including porcelain, glazed ceramic tile, floors, walls, stainless steel, plastic, bathrooms, cabinets and more. Click here to order online.